Geekseat Project Solutions
Roi-AI is an automated technology solution built specifically to enable recruitment agencies to generate revenue from their own databases. Utilising machine learning, chatbots, referral gamification, activity tracking and email / text automation the platform is designed to help recruiters focus on the human element of recruitment. Roi-AI was founded with one goal in mind, to create an automation product that offers recruitment agencies true return on their investment.
Privately funded through a group of recruitment industry entrepreneurs, with partnerships to the majority of the major recruitment database providers and an established on the ground presence in five countries, Roi-AI has quickly become one of the market leading providers of marketing and business process automation to the recruitment sector.
Through his work in recruitment marketing the Roi-AI founder Chris South found that his team was repeatedly coming up against the same problem time and time again. Specifically, the technology simply did not exist to allow them, as marketers, to do their job of improving the productivity and profitability of recruitment agencies internationally by leveraging their candidate and client databases. The core issue was that despite the presence of numerous established products and platforms in the market like Mailchimp, Marketo and Hubspot none of them were able to be easily and seamlessly integrated with the products and databases being used in the recruitment world. This forced Chris and his team of recruitment marketing specialists to deploy disconnected and unsatisfactory 'work around' solutions to achieve their clients' marketing goals.
Based on this experience, it was clear that most recruitment agencies simply would not have the in house technical skills and manpower available to do this work. Taking this thinking to the next logical step, it became obvious that there was an opportunity in the market for an 'out of the box' software as a service solution that would be specifically designed to be rolled out with very little customisation or implementation required. This would allow every recruitment agency, regardless of their size, to take control of their own marketing activity.
Timeline from scoping to development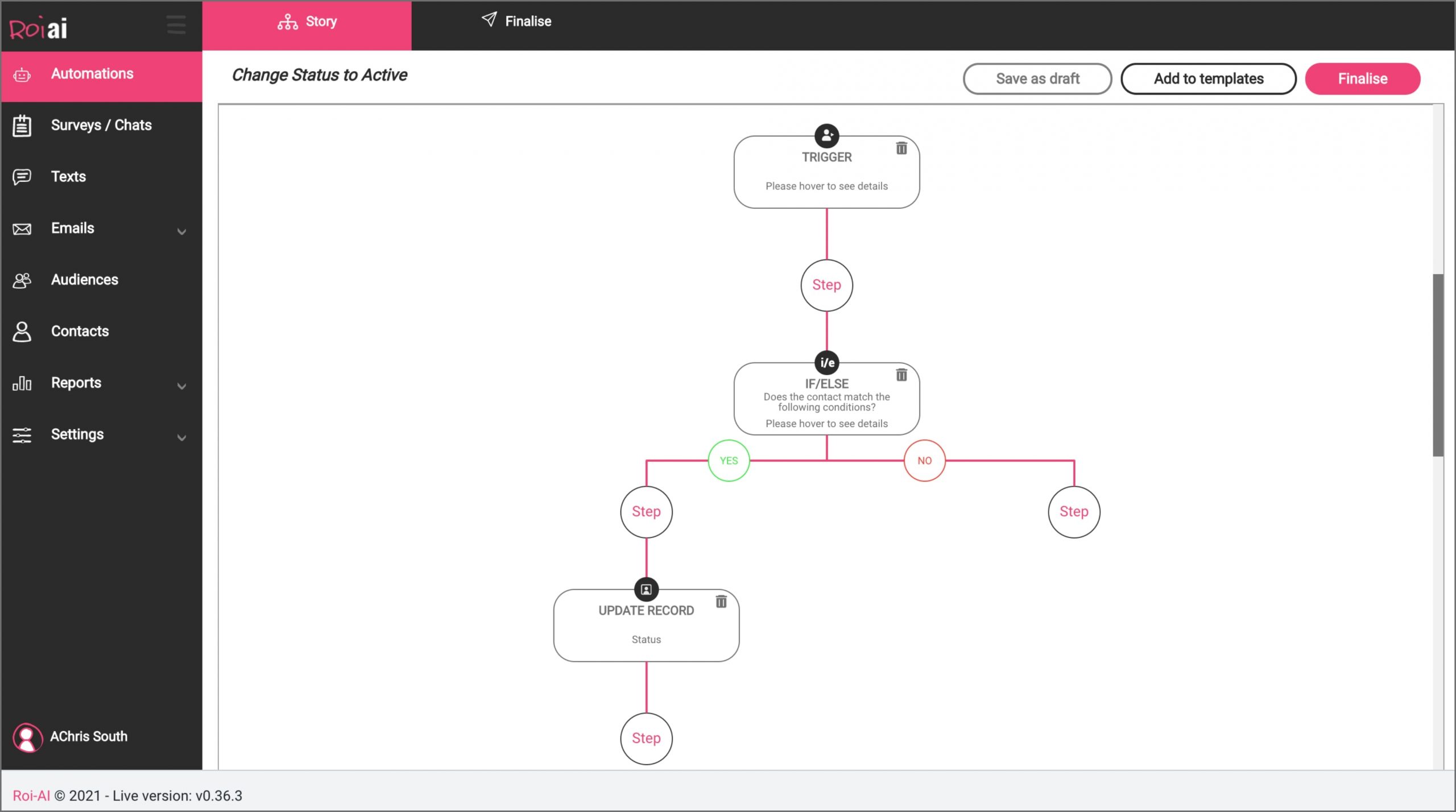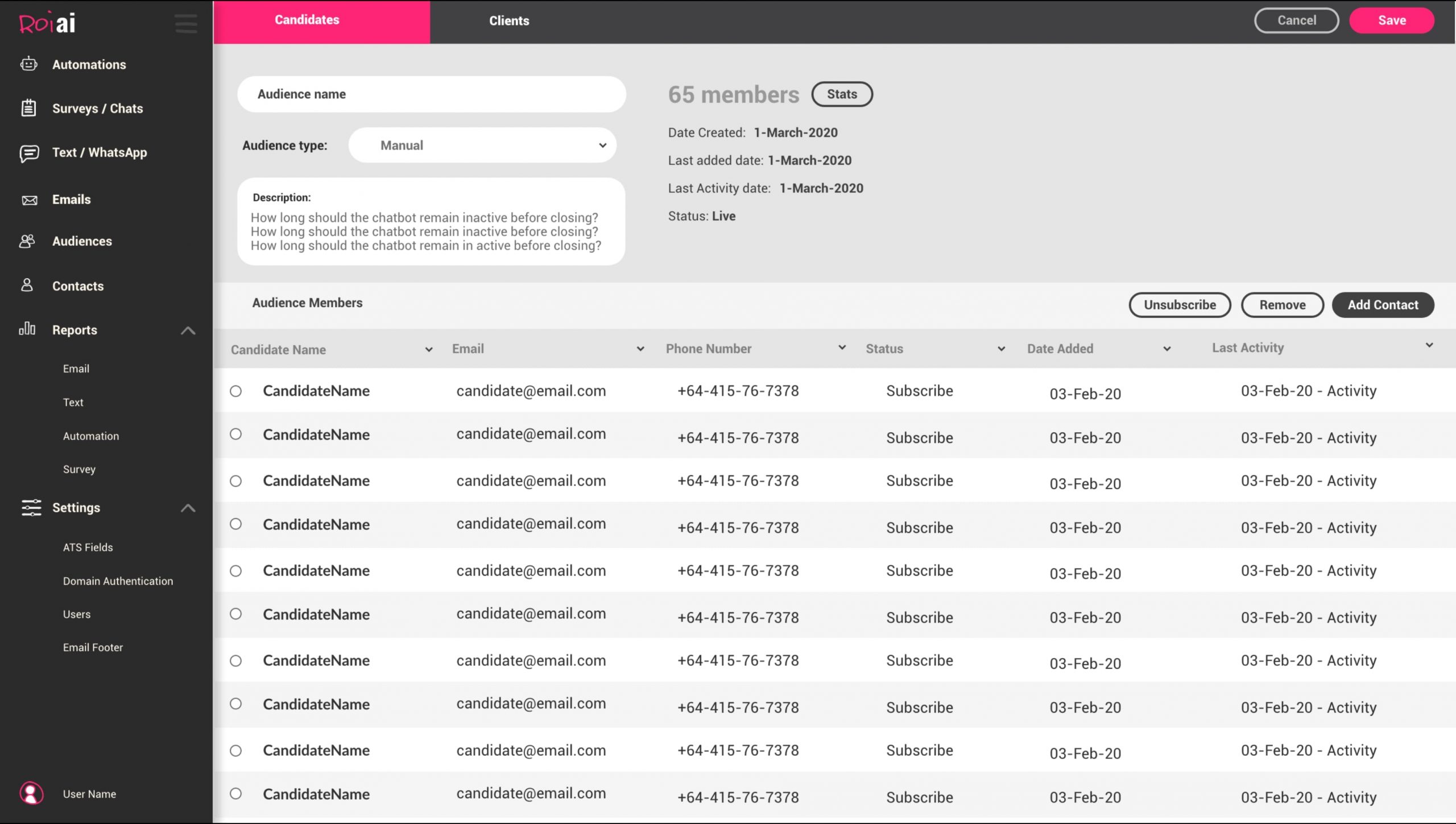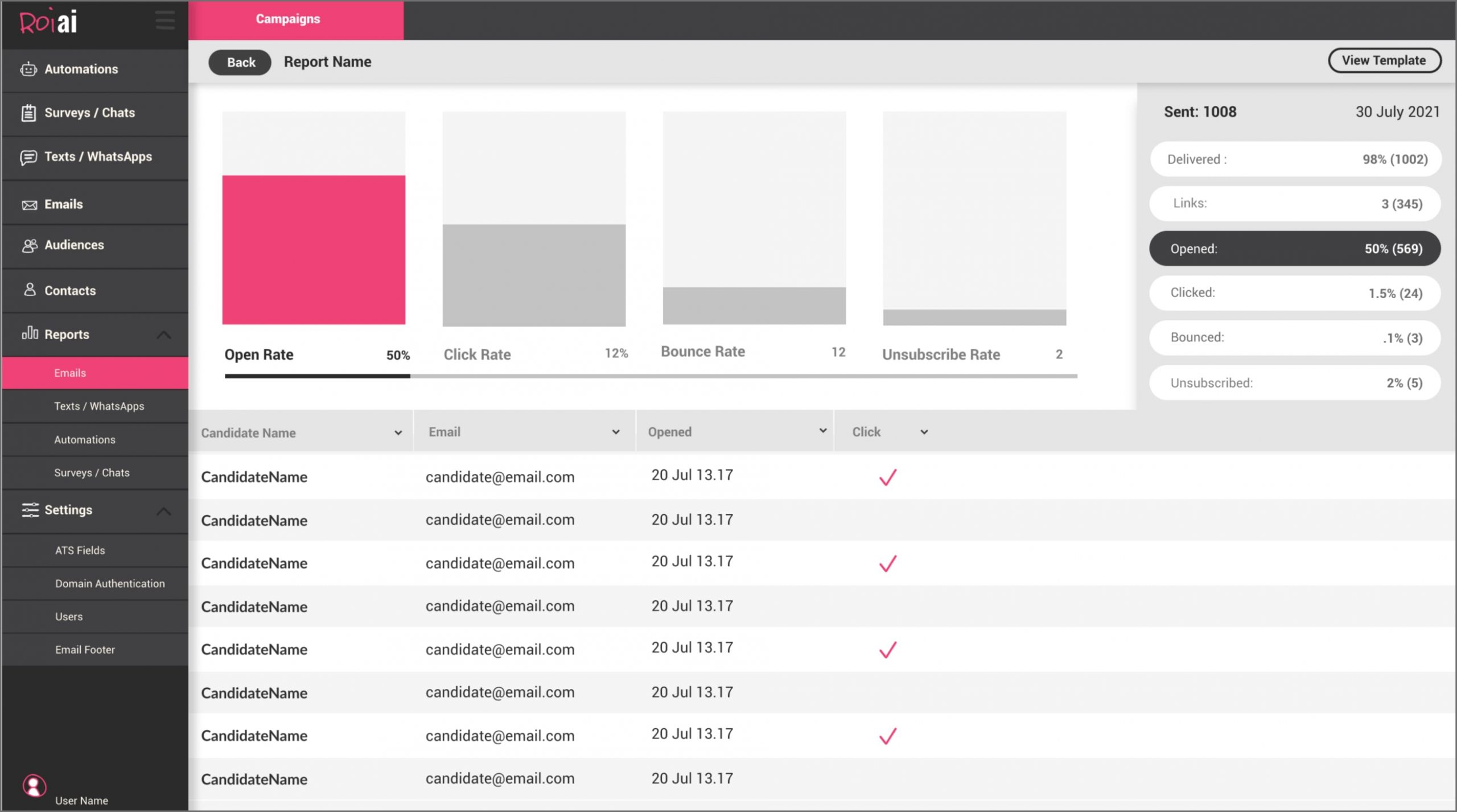 During the scoping process, the Roi-AI founder and Geekseat's scope team settled on a solution consisting of four key elements each of which are incorporated into the core platform. The four elements are; Marketing Automation, Business Process Automation, Referral Gamification and Activity Scoring.
Working at scale and by pairing trigger-based automation with chatbots, surveys, text messages, WhatsApps and fully branded email campaigns all in one platform, the Roi-AI solution automatically maintains a client's database integrity, ensures information is kept current and provides live candidate/client activity insights, making it faster, easier and more cost-efficient to find candidates, shortlist and fill roles.
Every part of Roi-AI has been built with a broad range of pre-built templates that can simply be turned on at the flick of a switch.
In June 2021, Roi-AI was voted Best Technology Solution at the Australian Talent X conference, hosted by the Recruitment, Consulting and Staffing Association.
Roi-AI needed developers, designers and QA to add to their existing team. They used Geekseat Project Solutions.
V-Unite had an urgent requirement for a sophisticated Virtual Event product. They used Geekseat Project Solutions.